JF wins Touro de Ouro 2018!
11/12/2018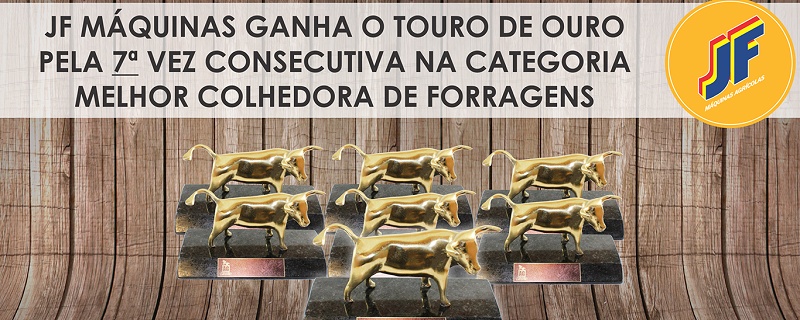 André Pereira (on the right), receives Touro de Ouro Award for the "Forage Harvest" during Intercorte 2018
JF received the Touro de Ouro Awards for the seventh consecutive year. This award is a recognition promoted by AG Magazine for top of mind brazilian livestock brands. The selection of winners are made by public choice as well as specialized media.
The awards ceremony took place on 2018, November 22nd, at World Trade Center Business Club, in São Paulo city during the INTERCORTE 2018. JF was awarded in the Forage Harvest category. JF was represented by Mr. André Pereira, Marketing Manager.
The most important brands of brazilian livestock were present and 30 brands received this important award. The JF Forage Harvesters are top sellers around the world and recognized by structural quality and performance, as well as by the services and support provided by its high qualified comercial and technical team.
Touro de Ouro Awards
This award is one of the most important recognition of livestock specialized media and public choice in Brazil. It recognizes the complete production chain of brazilian livestock that's for sure is one of the most important pillar of brazilian economy.
This Award exists since 2009 but the Precision Forage Harvester has been added on the winners wall on 2010 only and from that time on, JF won the last 7 out 9 awards.
Thanks to the team
JF team thank everyone that contributed to make this award come true in the seventh consecutive year, including our friends, partners, suppliers, customers and leadership team that always supported JF team to develop a hard, proper, ethical and responsible work.
JF, the solution for the farmer!