JF receives the Best Forage Harvester Award
08/21/2017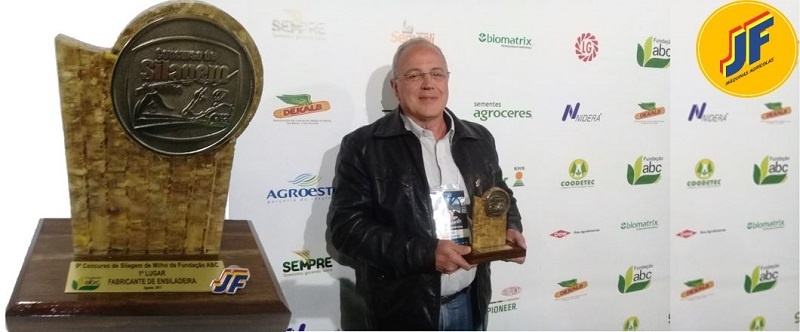 Photo: Celso Trevensoli, JF Sales Manager, receives award from ABC Foundation
In a dairy event that happened last August 18th, in Agroleite Fair located at Castro City – PR State (Brazil), JF has been recognized as the "Best Forage Harvester in Brazil" and received the Best Corn Silage Award 2017 organized by ABC Foundation. Castro city is one of the most important dairy regions in Brazil and has the title of Brazilian Milk Capital. ABC Foundation is one of the most important dairy lab/institute of Brazil and a national reference for dairy industry.
For seven years JF has been ranked among TOP 10 best corn silages organized by ABC Foundation in more than one position. For the last 7 years JF got 18 positions among TOP 10.
This important award is based on technical and laboratory analysis made by ABC Foundation and BLGG Lab, one of the most important in the world.
In order to determine the winner, it were analyzed 14 scores and variables broken into 4 different methods: The nutrients were analyzed by NIRS (Near infrared reflectance spectroscopy), and in order to assess the distribution and particle size were used Penn State particle separator test. KPS methodology (Kernel Process Score) had been used to evaluate the grain cracking. Another technique used by ABC Foundation was fecal starch analysis.
The silage samples were collected at opening silos (5 subsamples collected by Cooperatives technicians) and closed silos (3 subsamples collected by ABC Foundation technicians).
JF was also the Forage Harvester most used, respectively followed by New Holland, John Deere, Class and Krone completing the TOP 5 most used brands.
Considering scores from 0 to 10 for each one of 14 variables analyzed, JF got 9,1 average score for each one, result 21% better than the overall average.
The best silage have been made by farmer Mr. Edson Brun with his own machine, using the Precision Forage Harvester JF C 120.
In order to get more information the full report is available for downloading at ABC Foundation webpage (Portuguese only).
JF is grateful for getting this important award and share this recognition with all direct and indirect employees, directors, suppliers, customers and partners. Thank you all for been part of this special achievement.
JF, the solution for the farmer!